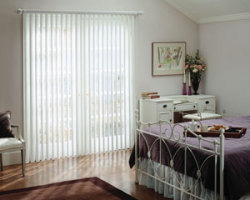 Looking for an attractive window treatment solution for oversized windows or sliding glass doors? Then you need to consider vertical blinds from Home Impressions Inc.. Providing both privacy and light control, vertical window blinds offer flexible coverage, simple operation, and great looks. They even move out of the way for easy access to doors! The ideal solution for larger windows and doors, vertical blinds are a high-performance, beautiful window treatment option for both casual and formal decor alike.
At Home Impressions Inc., we offer a variety of options when it comes to vertical window blinds, so we're sure to have one that's right for your style and your home. Our window shade and blind specialists can work with you to help you find the best vertical blinds for your home or office, so give us a call today.
Traditional Vertical Blinds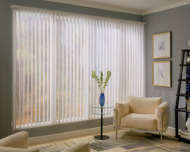 This is the style most people think of when they hear the term "vertical blinds." Constructed from a series of hanging slats, this classic look in vertical blinds offers practical coverage for screening your large windows and patio doors. Generally made from durable PVC, these vertical window blinds are low maintenance and easy to clean as well as attractive. Home Impressions Inc. offers traditional vertical blinds in a full rainbow of colors and even patterns designed to coordinate with any decor. A simple solution for increasing privacy and light control, our vertical window blinds are a great choice for any home.
Fabric Vertical Blinds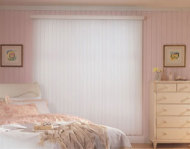 A more formal look in vertical blinds, fabric verticals combine the soft, flowing appearance of window drapery with the practical, easy operation of vertical window blinds. You get the best of both worlds: great looks and hassle-free function! At Home Impressions Inc., we have a broad selection of fabric vertical blinds in a variety of colors, textures, and features. With options ranging from room-darkening to light-filtering, our fabric vertical blinds are perfect for just about any room in your house. Providing light control, privacy, and updated looks, fabric vertical window blinds are a stylish option for any oversized window or door!
Cellular Vertical Blinds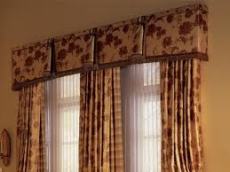 Cellular vertical blinds are an innovative window treatment that combines the practicality of traditional vertical window blinds with energy-efficient performance. Providing adjustable light management and privacy options just like other vertical window blinds, these cellular verticals feature a unique construction that also provides insulation for your windows! While traditional vertical blinds have nearly flat slats, cellular vertical window blinds are made from elliptical-shaped vanes. This special shape creates an air pocket: when closed, the vanes overlap and create a curtain of insulation between your home and the temperature outside. That means your cellular vertical blinds can help you keep your energy bills down in both summer and winter. In fact, they can be up to 20% more energy efficient than other window treatment options! Home Impressions Inc. is pleased to offer cellular vertical window blinds to bring our customers attractive window coverings and lower energy bills. Available in light-filtering and room-darkening styles and an assortment of colors, our cellular vertical blinds are your answer for superior performance, style, and beauty.
Sliding Panel Vertical Blinds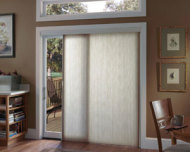 Perfect for casual and formal tastes alike, sliding panel vertical blinds offer fabulous style and performance for your home. Combining the traditional look of vertical blinds with today's focus on versatility, sliding panel verticals offer you the easy function of traditional vertical blinds, but with a sleek, modern look. In place of hanging slats or vanes, these vertical blinds features several track-mounted panels. These panels slide back and forth to provide you with full or partial coverage. Bringing you a contemporary, streamlined style as well as great privacy and light-control options, sliding panel vertical blinds from Home Impressions Inc. are the ideal solution for homeowners looking for a more updated style.